This post contains affiliate links. Read more on the Legal Page.
It's 2017 and you are looking at 365 new days to learn new things, make new mistakes, discover new places and people, take on new adventures or engage in new ventures. It's another year for new commitments and new challenges.
You greeted the New Year with eagerness but with a little bit of fear. You have set goals which you think may not be attainable within a year.
You may have ambitious plans for 2017 but don't know how to start, where to start, and what to start. It is a little bit daunting, isn't it? You ask for advice from your friends and family and I'm sure they would want you to look into your heart and do what it tells you. They are well meaning but not really helpful.
So, how are you going to make sure you keep track of all your commitments? How do you identify which activity is urgent? How do you manage time to do all the stuff you have planned?  How do you organize your life to reach all those goals?
The answer is surprisingly simple. Write it down on paper. Writing down your targets, activities, ideas give you a 100 percent chance to remember them.
Most especially if you are thinking of starting a business or creating a new one. It is beneficial for when you need to sort out all those business opportunities and project ideas and focus on what you really want to do. It also helps you to take note and easily identify what activities are important and what can be done on a later date. 
It is useful in reminding yourself of important dates, and I'm not only talking about birthdays or anniversaries but meetings to clients as well. It also allows you to track your progress and enjoy those little victories.
I have rounded up a variety of the best planners to match your ambitious goals for 2017.
---
1 | Blog + Life Planner by Wonderlass ($47 USD)
PHOTO CREDITS: WONDERLASS
For those who like quirky and colorful stuff, this one is sure to get your attention. The Blog + Life Planner by Allison/Wonderlass is a personal and blog/business planner with a personality all of its own. This cute and colorful planner will be your partner in organizing your life and blog for this year for 47$.
It will definitely give you the good vibes you need to start your life for a new year and your blog. It offers two options for the cover (hardbound); Unicorn Fabulous and Whimsical Watercolor Peonies. It holds between its 227 colorful pages a dateless planner so you can start anytime you want.
It contains pages for your personal goals and activities so you can organize your life in a fun and frivolous manner. But most importantly, it also contains blog specific planners to help you manage and succeed in your blogging business.
It includes pages for your business to do list, blog plans or ideas, social marketing ideas. Moreover, it has a progress tracker such as pages to record blog and social media stats so you won't forget to enjoy those little victories.
Allison, the creator of the Life + Blog Planner, describes herself as a crazy, colorful sidekick for people who wants to create a profitable online business.
It is her advocacy in life. She aims to assist individuals to free themselves from the shackles of their day jobs. She aims to help individuals embrace their colorful inner selves and use it to create income.
She offers a variety of services such as giving tips and guides on starting your online business, attracting clients for your blog, creating a brand, and promoting your online business. She is basically giving free tips on how to newbies in the online business.
---
---
2 | EPIC BLOG: One-Year Editorial Planner Diary ($14.80 USD)
PHOTO CREDITS: BY REGINA
Less is more. If you are one of those minimalist individuals and finds black and white simple yet elegant, then this planner is for you. This one-year planner of 115 pages is your epic companion in your goal to a successful blogging business.
It contains blank months so you can start anytime. And any time, according to Ron Conway, is a good time to start or launch your business.
It also includes a page for your mini blog business plan to enable you to focus on what your blog will be about. In addition, it has pages for ideal survey reader, monthly theme planning, monthly-content planning.
It also includes pages for your important tasks and activities at the start of each month and a progress tracker at the end of each month.
To make sure you do not forget any brilliant ideas and concepts, a page is included so you can brainstorm posts/content for your blog.
Regina Anaejionu believes that by creating contents for others, she can help expose the epic in them. She created the One-Year Editorial Diary for that purpose: to guide individuals in creating an epic blog that is both purposeful and profitable.
Regina also uses other methods to assist others in their quest to launch a successful online business. She wants to help you realize the abundance of knowledge stored in your heads and use it to earn some moolah.  
She offers lessons on building that epic blog such as guides on how to grow blog traffic with social media, how to create stellar content plans, and how to create a brand.
---
---
3 | 2017 Planner – Weekly Planner Notebook 2017 Diary ($15.82 USD)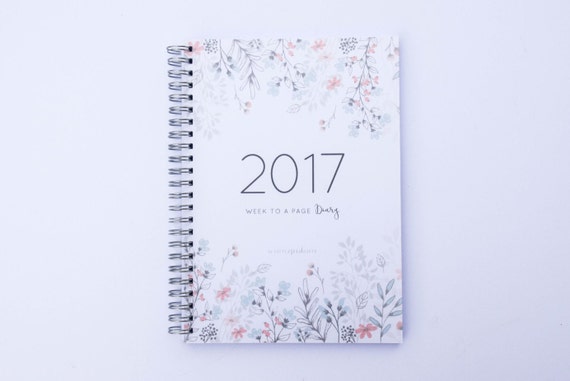 PHOTO CREDITS: LITTLE SEED GIFTS
It's simple, cute, clean, and refreshing. The Weekly Planner Notebook 2017 Diary by Little Seed Gifts is handy with dimensions of approximately 150mm X 210mm.
It offers two design options, contemporary forest design and rustic floral design, but its dominant color is white. It also offers variety as to the color of the binding which can be white, black or silver, and the protective cover which can be clear or frosted. Both are spiral bound and the pages are made from eco-friendly sources.
Not only will you be accomplishing so much through this planner but you also get to help the planet. The pages include to do list, space for daily schedule, notes sections, and weekly view.
Little Seed Gifts is owned by Laura from Melbourne, Australia. She creates, designs, and manages all aspects of this online store. Her style leans more towards rustic and her designs are nature inspired.
Her products are a variety of planners and notebooks, wedding stationery, and packaging supplies. They are handmade from eco-friendly materials.
Her products are best when you plan to hold a rustic/country type wedding or doing some arts and crafts but wants it simple and uncomplicated.
---
---
4 | PRE-ORDER: Design Your Life® 2017 Planner ($39.95 USD)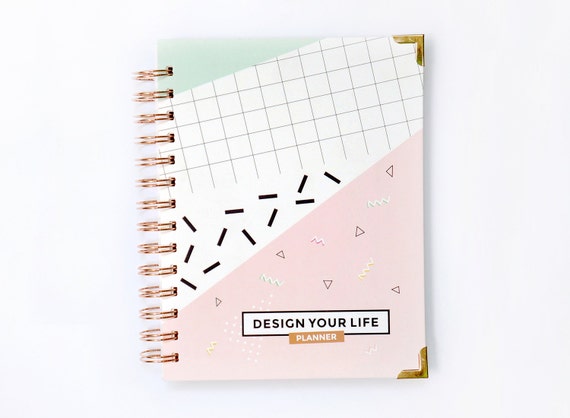 PHOTO CREDITS: C&S DESIGNS PH
Be unique, fun, and vibrant using the Design Your Life (DYL) 2017 Planner by CNSdesignsPH. The DYL 2017 Planner contains 192 full-colored pages with motivational quotes, useful articles, and fun games to inspire you to go on adventures, to be spontaneous, to take risks, and to conquer your fears.
It contains pages so you can record your activities, thoughts, ideas, and memories. It features rose gold binding and gold protective corners.
Christine and Sheryl are behind the beautiful creations of C&S Designs. They are best of friends and like to create personal planners as Christmas gifts for their group of friends.
That is what started their business. They first created their official product on 2008. From then on, they continue to develop and improve their products to ensure that the designs are still fun yet still functional.
Their business has already grown since they first launched their online business. They now include planners, stickers, notebooks, notepads, and more.
---
---
5 | Goal Digger JAN-DEC 2017 Planner Agenda Weekly ($30 USD)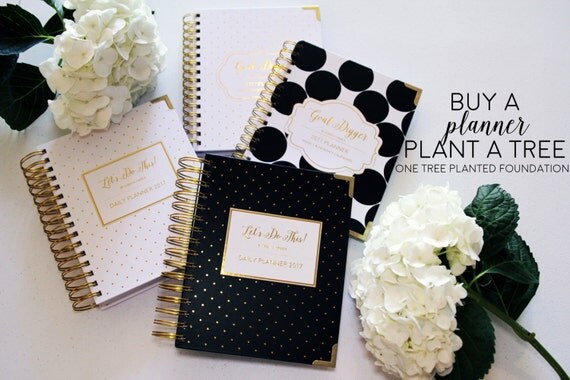 PHOTO CREDITS: SUSANA CRESCE
It's fashionable yet convenient. This Goal Digger planner will help you get through this awesome year in style. You have two beautiful options for the cover, both with fashionable gold trim and lettering.
This planner contains catchy phrases that will surely motivate you to do your best this year. The pages are 100 gsm wood-free paper where you can write your dreams, perfect days, due dates, monthly mini-goals, and notes to self.
It also allows you to review and track your progress through the month and goals analysis page after every month. It contains weekly and monthly calendars. It provides spaces for you to write your 2017 experiences.
Susana is the amazing woman behind the Goal Digger 2017 planner. This woman is just passionate about pen and paper and admits to being in love with in early in her life.
She also loves products that promotes goal setting, especially if they are presented in beautiful designs. She is the icon for "goal diggers". She also manages her blog and podcast "Hey Bride" which guides brides to be on their most special day.
Her specialty is in catering to the feminine and creative side of the go-getters. She promotes products that encourages individuals to go get your dreams, accomplish goals, and celebrate life's amazing moments.
---
---
6 | 2017 Planner – Heart of the Farm + Minty Stripe ($59 USD)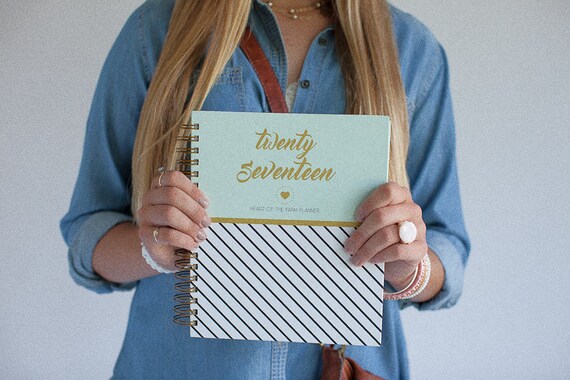 PHOTO CREDITS: HEART OF THE FARM
This planner is best for a country girl who likes to dream big. This planner by Heart of the Farm is designed with a page at the beginning of the month to write down your thoughts to encourage you to take action.
It also contains a monthly view with a 2 page spread for your long term planning, events, activities, deadlines, and reminders. You also get inspiring thoughts just in case you are feeling down.
It also provides you with pages where you can set out your priorities with the Master Top priority checklist. It also allows you to plan your major projects.
While helping you sort out your life, it also encourages you to have fun through their seasonal bucket list where you can plan your next vacation. If you are health conscious, it also provides a page for your meal plans. 
You will bring it with you everywhere. No need to worry about ruining it because it has a durable designer hardcover.
The Heart of the Farm is an American brand designed for country folks at heart with the values centered at faith and family.
It is created and founded by Cory Ingram with farm and ranch families with agricultural roots in mind. Because of her country roots, her planner is made beautifully, practical, and handcrafted in the finest materials.
In creating her planner, she wants to help others organize and prioritize their life and enjoy in the best way possible every days of her life. Best of all is you are able to record it using their planner.
---
---
7 | Daily Greatness Business Planner: An Actionable Plan For Exploding Your Business ($44.95 USD)
PHOTO CREDITS: DAILY GREATNESS
If you plan big business this 2017, then this comprehensive planner is the best partner. It is designed specifically to help you in your business pursuits keeping you focused and organized.
It is undated so you can start anytime. It contains pages for finance and budget worksheets, goal, action and appointment planners, and best personal development tools.
It also helps you keep track of your progress through the weekly check-in, challenges, and inspiration. While helping you achieve your goals this planner is durable so you may plan out all your activities anywhere.
It has flexi-bound covers with a smooth flat finish. Aside from being useful and practical, it has full color designs to inspire you to be creative and create new and exciting business projects so you can be the best entrepreneur.
Lyndelle Palmer Clarke is the creator and author of the Daily Greatness Journal. It is her mission to empower other people to apply all their self-help ideas in their lives in a fun, practical and dynamic way.
She commits herself in helping other follow their inspirations and live the life of their dreams. She created the Daily Greatness Planner in the hopes that she could reach out to people and help them better manage their time, mindset, and daily routine.
She aims to help other do something about their dreams than just think about.
---
---
8 | LIFE PLANNER Stylized Organizer ($55 USD)
PHOTO CREDITS: ERIN CONDREN
It is stylized and all encompassing. This life planner by Erin Condren is both functional and fun. It is completely customizable. It is your ultimate planner for a fabulous new year.
It is perfect and handy at 7 inches by 9 inches which is available in three layouts, vertical, horizontal, and hourly, and in two colorful themes, neutral and colorful. It is also available with a 12 month or 18 month calendars.
The pages can either be colorful or neutral with note pages so you can write all your brilliant thoughts, ambitious goals, and big and small achievements. It also has a keep it together folder plan, pouch, four event, sticker sheets, and snap in bookmarks.
Erin Condren is the brilliant woman behind the amazing life planner stylized organizer. Her life story is definitely inspiring. She used to work in the apparel industry but decided to become a stay at home mom.
Yep, she is a mother of two. Then pursued an online business which started with making note cards for friends for birthdays, baby announcements, and hostess' gifts.
Now, her business has boomed and her products expanded from note cards and stickers to life planners, notebooks and many more. In 2015, she celebrated the 10th year anniversary of her business.
---
---
9 | THE AGENDA, CHAMBRAY ($48 USD)
PHOTO CREDITS: SUGAR PAPER
If you wanted a product that is well thought out and made with perfection at the minds of its creator, then this is the product.
The Agenda, Chambray planner by Sugar Paper is made with chambray fabric with gold foil accents and extra thick paper. It contains weekly and monthly pages from January to December 2017. It is user-friendly so you can organize your life with ease.
It also contains pages for birthday and thank you note tracker with additional spaces for your thoughts and ideas.
Sugar Paper is the website for people who knows how to appreciate paper. They use letterpress which is a method where each piece of paper is handfed into an antique press providing a deep impression that is elegant and timeless.
The Sugar Paper is composed of a brilliant team who are unique, artistic, and fun. Their store specializes in letterpress stationery and an impeccable selection of paper goods.
They offer products for all occasions such as Valentine's Day gifts, signature candles, phone cases, and wedding collections.
---
---
10 | 2017 Start Planner (Hustle Daily Planner) ($60 USD)
PHOTO CREDITS: START PLANNER
The 2017 Hustle Daily Planner by STARTplanner is a holistic planner that will help you stay organized from January to December 2017.
It contains daily, monthly, and yearly planner with pages for goal setting and tracking. It also helps you to have fun while organizing your life for 2017 with pages for your plans on holidays, for your projects, and for your vacations.
To make sure your follow the path towards success, it contains pages to track your projects, home cleaning activities, and giving back goals. Not only that, it also includes pages for financial planning, health planning, meal schedules. This planner aims to help you reach those dreams of yours. That is why inspirational quotes are scattered throughout the 420 pages of this planner. 
The START planner teams believes in achieving goals through proper planning, and preparing yourself for success. Hence, the STARTplanner was created.
They have harmonized business principle with everyday life through their planners. They also wanted to create a planner that is small, efficient, and helpful for planning real life.
The STARTplanner is designed to help, encourage, and enable individuals to make their dreams a reality by guiding them to make actionable steps for every day and month.
The Hustle planner is their original flagship planner combining all the aspects in your life which needed organizing.
---
---
Sure, you do not really need a planner. Sometimes, it takes too much time. It can even be bothersome when your plans seem to constantly fail.
But let me tell you that when you are set on getting those big dreams and triumph in all your endeavors, using any of the above planners will give you the edge to be better and do better.
You know why? Because it will serve as your reminder and you motivator. If you constantly doubt yourself, all you got to do is open your planner.
And, each time you open that planner you are reminded of what you want to do and why you want to do it. If you are a procrastinator like most of us, each time you look into your daily activities and monthly goals, you are pushed to take action.
Each time you track your progress and see a few snags in your plans, you can review your actions and learn from it so it won't happen again. And, you get to enjoy and celebrate your achievements, be it big or small.
Moreover, using the planners suggested above will give you a bigger chance in your conquest for a successful online business or blog. Because blogging can be a little mad sometimes.
There are deadlines to meet, contents to write or products to promote. Using a planner can help you organize your time, thoughts, and business projects/plans. So go find the planner that will suit you best and get organizing.
---
---
Are you also a planner-type person like me? What other 2017 planner for bloggers and entrepreneurs can you recommend? Don't forget to share your thoughts below!